Search engine optimisation boosts traffic & bookings
Key events (a holiday houses website)
Apr. 2004: Search engine friendly website put up
Nov. 2004: Still very few enquiries. 45'ish in Google for (indicative) romantic aegean villa (PDF)
Feb. 2005: Core website optimisation, started in December, finished
Jun. 2005: 1st. in Google for romantic aegean villa (PDF). First booking from having the website.
Visitor traffic statistics (Beg. Aug 2004 to end July 2005)
the key statistics are the Visits (in yellow). Note how much taller is the bar for the July 2005 Visits compared to that for August 2004 (July 2004 figures cannot be shown)
the other statistics also reflect the increasing traffic to the website.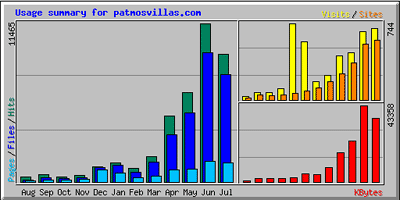 See results (often in the top 10) of our search engine optimisation work